Our Vision
The vision of Red River Ford Lincoln is to be a company that our people are proud of and committed to; where all employees have the opportunity to contribute, to learn, and advance.

We want everyone to feel they are respected and treated fairly. Red River Ford must be an entity that is open to change, that strives for excellence, and has fun during the process. Most importantly, we must deliver the highest level of service to our customers, for they are the sole reason our organization exists.




About Us



Red River Ford Lincoln is owned by Darrell Mendez, Pat Lynch and Jeremiah Lynch; all three of whom are former Ford Motor Company employees who worked in the Oklahoma and Texas markets for many years.

 

Red River Ford Lincoln was established on October 1, 2005, and since then has been recognized for providing outstanding customer service and earned a reputation for never being undersold on new Ford vehicles and with our large pre-owned inventory. These traits are prevalent throughout the organization and are fostered by a management team that understands the importance of taking care of the customer before, during, and after the sale.





Red River Ford is a "Blue Oval" dealership, a distinction earned by providing superior customer service with a best-in-class automotive retail experience. This is accomplished by achieving high customer satisfaction reports from both sales and service customers and by ensuring that all employees are certified to Ford Motor Company standards.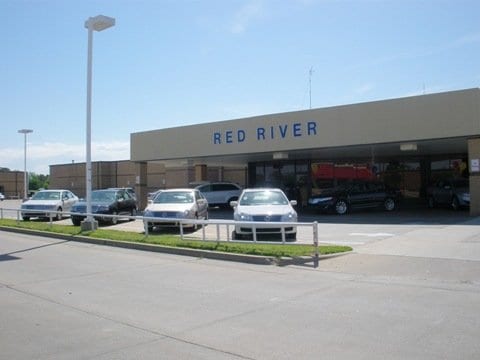 This is especially important in the Service Department. The Service Department staff is certified and equipped to address anything from replacing diesel engines to rebuilding transmissions and everything in between.  A new addition to our family is the Quick Lane Tire and Auto Center which opened in August 2018.  The Quick Lane Tire Center is located between the dealership and TH Rogers and provides maintenance services such as oil changes. brakes, alignments, front end work, flushes and more.  Customers can even purchase name brand tires which come with a Low Price Tire Guarantee! The Quick Lane services all vehicles, regardless of make, and also offers a loyalty program called the Preferred Customer Club. This program benefits customers with specials such as buy 4 oil changes and get the 5th one free.  
Ford is a world class automotive company and Red River Ford Lincoln is proud to be its authorized dealership in this area. We invite you to check out our full-line of award winning products like the legendary Mustang; cross-over vehicles like the Edge and Flex, SUVs like Explorer and Expedition; and of course, the Built Ford Tough trucks, F-150 and Super Duties.  We are also proud to be the only luxury dealer in Southeastern Oklahoma.  Our line-up includes the a sporty sedan, the Lincoln MKZ; the flagship sedan, the Lincoln Continental; cross-over luxury with the Lincoln MKX and Lincoln MKC; and of course, the full-size luxury SUV, the Lincoln Navigator.  Remember, if you don't see something that you want, simply let us know and we can get it here for you through our nationwide relationships with other Ford and Lincoln dealerships. 
The Used Car Super Discount Center is the best place to purchase a pre-owned vehicle in Texoma. The Center offers a wide array of domestic and import vehicles including economy and family cars, full-size trucks and SUVs, and luxury vehicles, each of which has been checked out by the Red River Ford Service Department. In addition to used cars and trucks, the Center also stocks Ford Factory Certified Pre-Owned vehicles which have been through a rigorous 172-point service inspection; are eligible for low APR rates through Ford Credit; and are protected by a 12-month,12,000 Mile Comprehensive Limited Warranty and a 7-year/100,000 Mile Powertrain Limited Warranty. 

    
Red River Ford supports a number of local causes including youth athletic teams, the Bryan County high school FFA chapters, Southeastern Oklahoma State University Athletics, the Boy Scouts of America and the American Red Cross.  In fact, the dealership has been recognized as a Red Cross Hero for donating over $18,000 towards disaster relief in Southeastern Oklahoma over the past few years. 

The largest and most well known cause is the Red River Ford United Way Annual Food Drive that takes place each October and November. This community-wide drive benefits the Bryan County Food Banks including Families Feeding Families and Hands of Hope.  Over the past 11 years, this annual event has raised over 280,000 lbs. of food and over $86,000. 
The owners are very community-oriented and are active in several civic organizations. Darrell and Geri, his wife of 28 years, have three children, Ryan, Natalie and Scott. Pat and his wife of 49 years, Sandy, in addition to Jeremiah, also have a daughter, Kelly. Jeremiah and Jodi, his wife of 21 years, have two sons, Chris and Parker.  
There is a positive attitude at the Ford Lincoln dealership in Durant… stop in and see for yourself. We want to earn your business… on the showroom floor and on the service drive. Either way, you will love how you are treated.